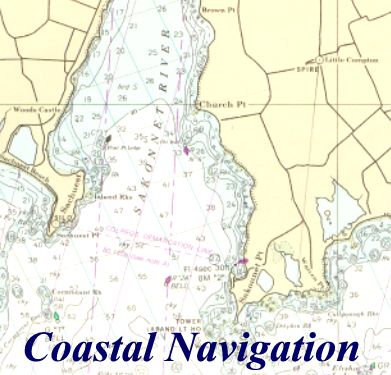 Next 5 week course begins Monday  April 16th, 2018.  Classes run 7 to 10 PM
2018 Spring Course dates:
4/16, 4/23,  4/30,  SKIP 5/7, Return 5/14, Last Class 5/21 for the final.
In the event of class cancellations due to weather or unforeseen circumstances the course will be extended one week .
Book your course early as class size is very limited.
Course learning outcomes:
You will learn the basics of piloting a small craft along coastal or inland waters.
Upon successful completion of  the final exam,  you will receive certification from the American Sailing Association.
Course topical outline:
Terrestrial coordinates, reading charts, chart symbols, measuring direction and distances on charts, compass rose, variation and deviation problems, dead reckoning, position finding, bearings and fixes, danger bearings, current set and drift problems, tides and currents, introduction to electronic navigation including GPS,  navigating in fog, final exam.
The advantage of doing this course in five sessions, is to allow you to work out the homework assignments at home. Working out navigation problems outside of the classroom environment will reinforce your classroom work and help you to build your skills quickly.
The ASA 105 Course, Coastal Navigation is a prerequisite for taking the ASA 106 Course, Advanced Coastal Cruising.  During the 104 and 106 Courses you will be putting your new found navigational skills to use while underway.
Cost: $289.00
Includes:  ASA certification and the newly published ASA course workbook, text, DVD and charts.
Materials required: 15" parallel rules and 7" dividers, (available for purchase at class). #2 pencils, Drafting eraser
Recommended Additional Reading: Chapman's, Bowditch, Dutton's or any navigation text.
Class space is very limited, Please contact Steve Mink for course reservation or questions
Phone: 215 393-7833
Fax: 215 895-9664
Email: info@libertysailingschool.com
Please complete the application Form
You may make your payment online 

Liberty Sailing School of Philadelphia
Philadelphia Sailing School
303 N. Front Street.  Philadelphia, PA 19106
Corner Front and Vine Street) Front Street is one block west of Columbus Blvd.
Vine Street is 1 block north of the Ben Franklin Bridge.
Some on street free parking or at Dave and Busters parking lot 1/2 block away.