Liberty Sailing School 
of  Philadelphia

Philadelphia Sailing School
An a American Sailing Association Sail Training Facility
Since 1993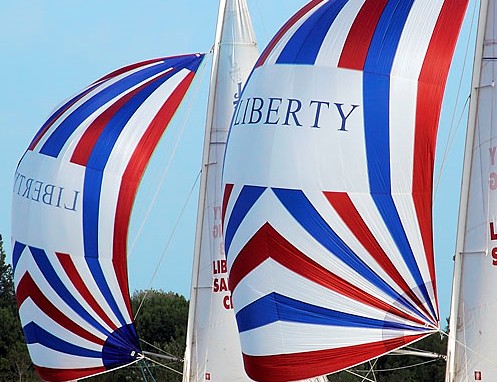 Learn to sail with confidence on the historic Delaware River Water front in Center City Philadelphia.
Wide open sailing with great wind.
When you complete your course
 you can practice your new found skills
  at the Liberty Sailing Club 

 or Practice Sail on our Sonar 23's
 or our Hunter 31
Ample free parking available.

Great restaurants nearby
Classroom Location:
 303 North Front Street,
 Philadelphia, PA. 19106
Fleet Location: 
Philadelphia Marine Center,
 (Pier 12)  235 N. Columbus Blvd, 
Philadelphia, PA. 19106
Business Office: 
203 Pinecrest Lane,
 Lansdale, PA 19446 
215-393-7833
For additional information or to book your course 
by phone please call
215 393-7833  Fax 215 895-9664

All Courses Are Designed To Offer Students Maximum Time on the Water. 
Our Instructors are 
United States Coast Guard Licensed Captains, 
Certified by the 
American Sailing Association
 and the 
Pennsylvania Fish and Boat Commission

The Pennsylvania 
Safe Boating Course 
is now offered during our 
ASA 101, basic sailing class
Pennsylvania residents that hold a Pennsylvania Safe Boating Certificate are covered under the mandatory requirement that everyone must have a safe boating certificate in order to operate any type of boat with a motor in New Jersey, Delaware, Maryland and other surrounding states as long as they do not reside in the state for more than 90 days
Thanks to our students and instructors for making our 2017 season our best.  Regular ASA 101 classes begin again the weekend of May 5th.  ASA 103 begins the weekend of May 19th.